This morning Emma had a "progress" appointment. She was to get an x ray and see how her tibia had been healing. Well, we got there and she was a happy girl. They called us for the x ray and Ryan took her in. I only heard the technicians laugh and say "yay Emma". I think she must have been perfect during the x ray. She got three stickers. When they sent us in to the room, the doctor's assistant came in and the only thing I remember he said was "three stickers? wow! today must be your lucky day!" Emma was way too excited about those stickers. One of Care Bears, one Strawberry Shortcake and a Snow White one. She was truly excited. Can't you tell?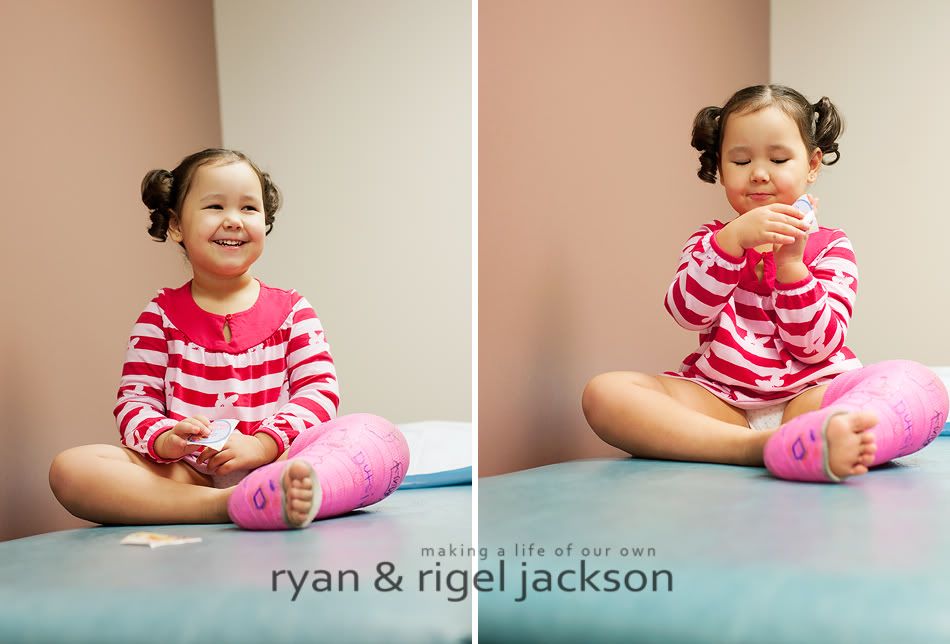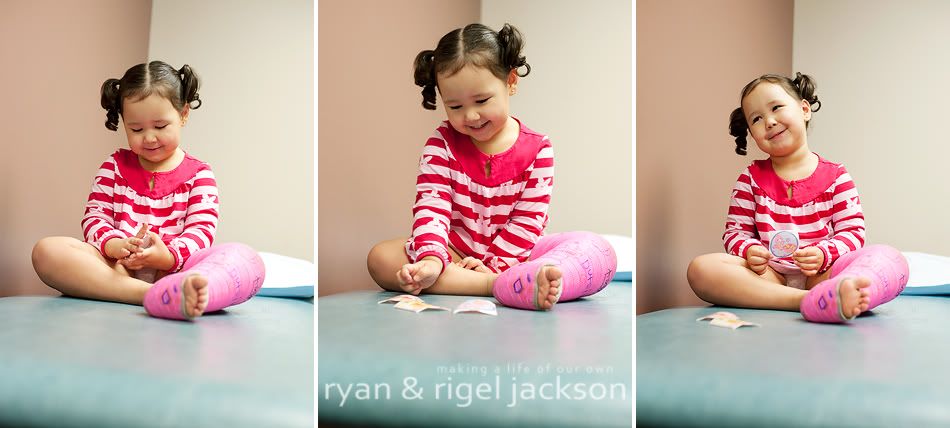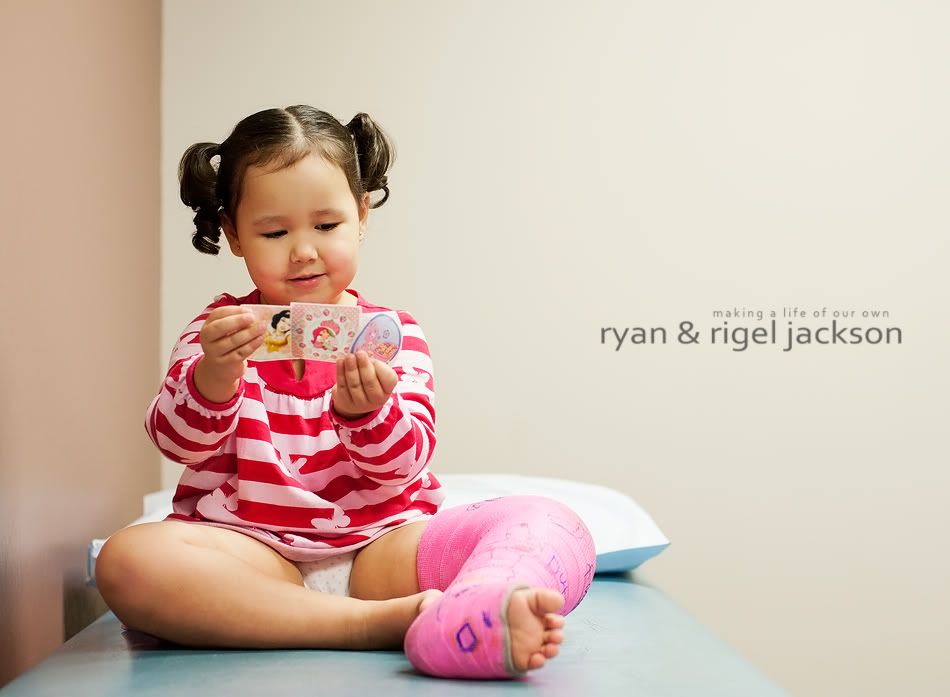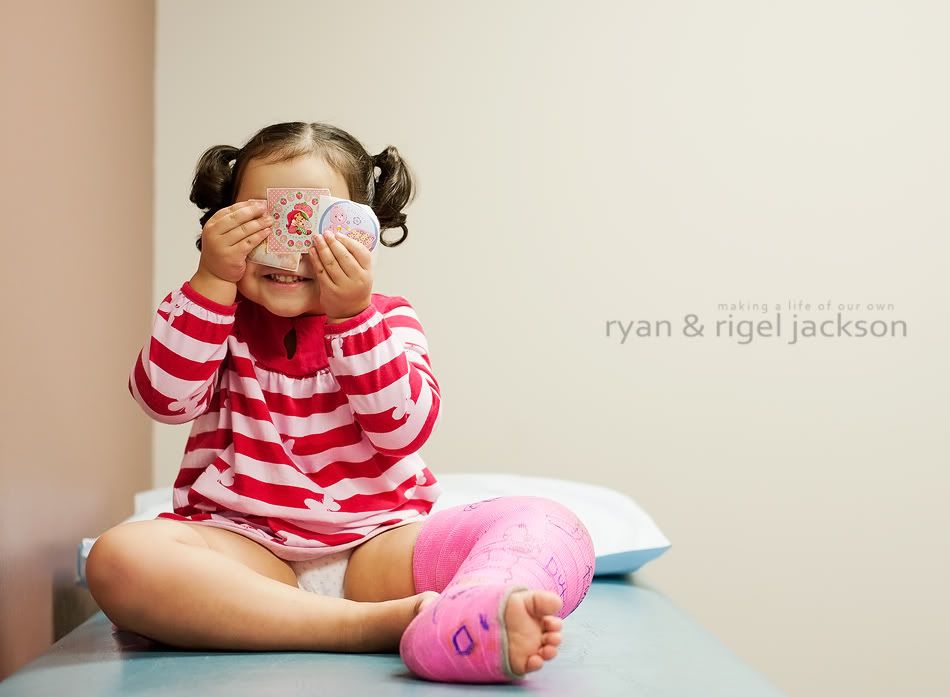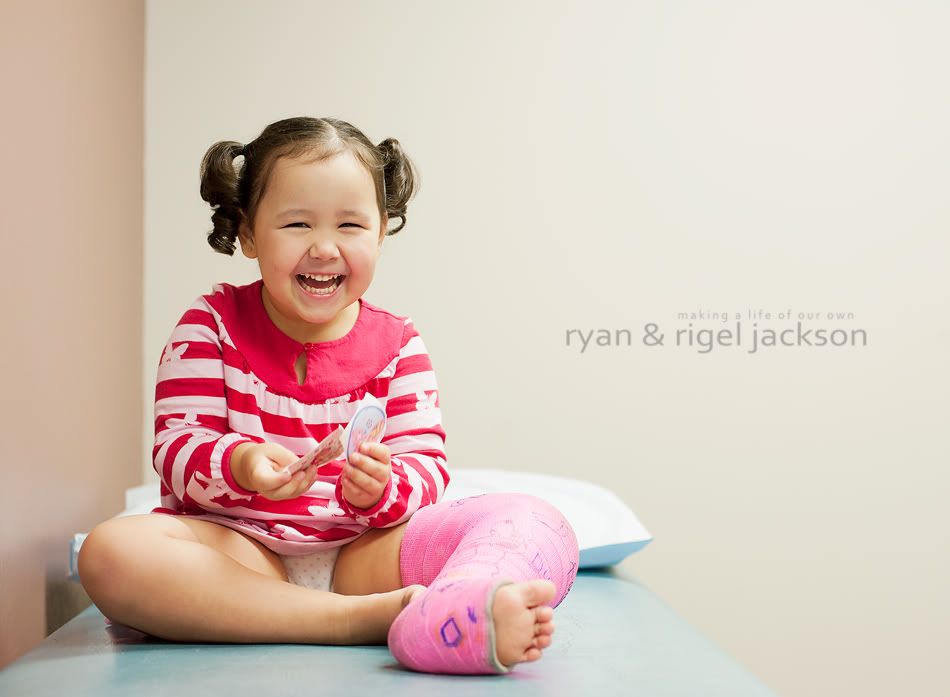 Emma was too excited that she thought it would be great to peel the stickers and stick them on herself. She then thought it would be fun to stick two together. She asked me to un-stick them and I promise I gave it my very best and only meant well. Strawberry Shortcake was in perfect state while Care Bears, well, not. She was so disappointed. Her smile disappeared. All she could think about was her ripped stickers and kept accusing me of ripping them. The doctor then came in and started talking to Emma but she would not answer; she was too focused on her loss and I think she may have wanted some kind of revenge. Doctor Haller soon figured out that she would not listen to him and thought he would give the sticker a try.

I thin he was almost there, I could almost see Emma's smile on the left. He did it! And Emma is my smiley girl once again, on the right.

Then the Doctor was able to deliver his message. Emma's x ray looked good. Still healing. We had two choices. Cast on for two more weeks but would surely come off then. Cast off now but she might experience pain and cast would probably come on again. She heard the cast off option and she wanted it off. She has been talking about new shoes. I knew that if the cast stayed on, she would be unhappy and would make the two weeks somewhat difficult. Ryan thought she could handle pain well if she did have it. Yes, off was the only option we were really considering. She promised to be really good and not jump, run or climb. The doctor approved. We took a few last shots of the
in
famous cast!

Off we went to Coach Kim's room! She is the same lady that put it on. She's just now Coach Kim Mac. Very nice lady. So, here we are.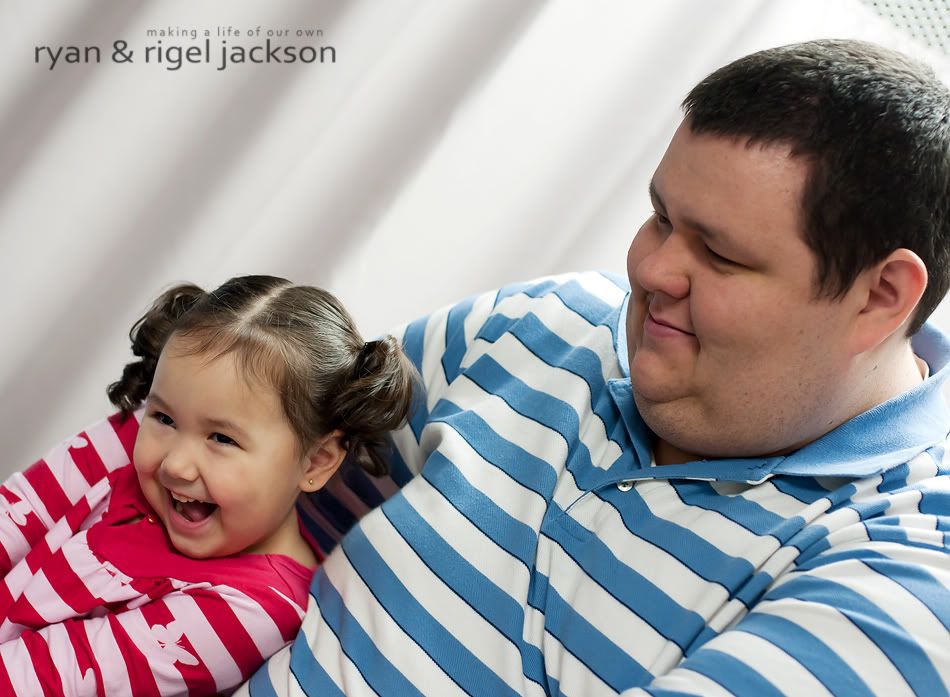 Coach Mac pulled out her tools and explained to Emma how she would go about cutting the cast off. Emma payed close attention.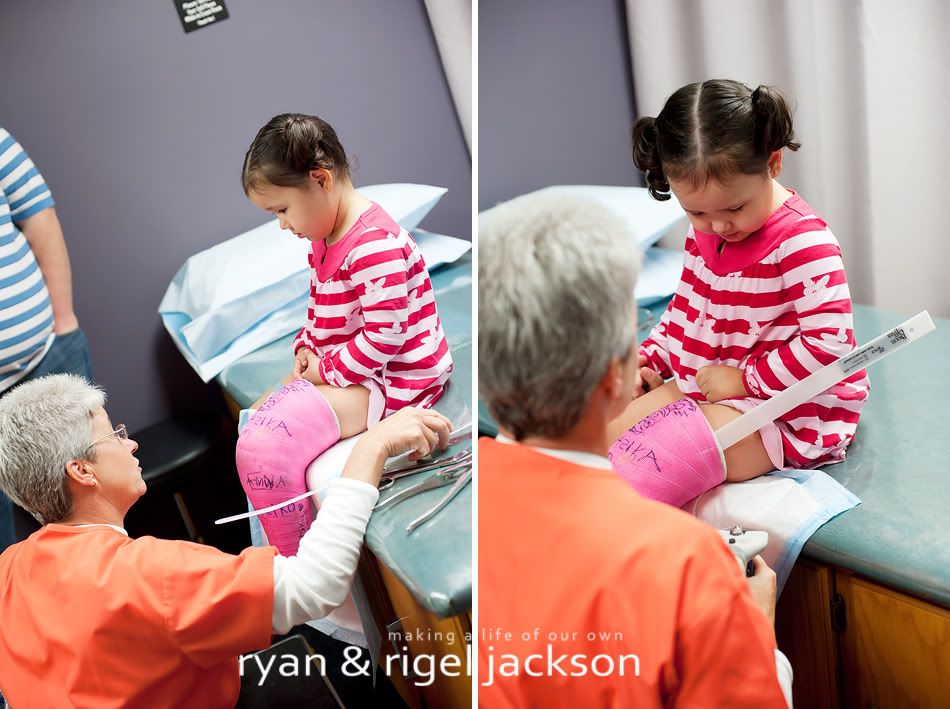 Almost off.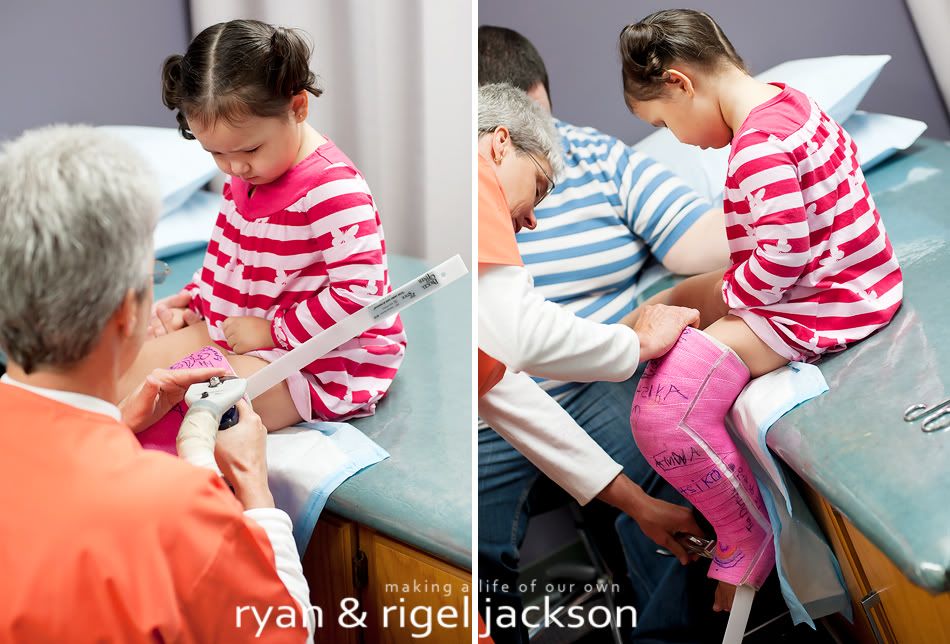 I love this picture! Daddy's keeping her safe.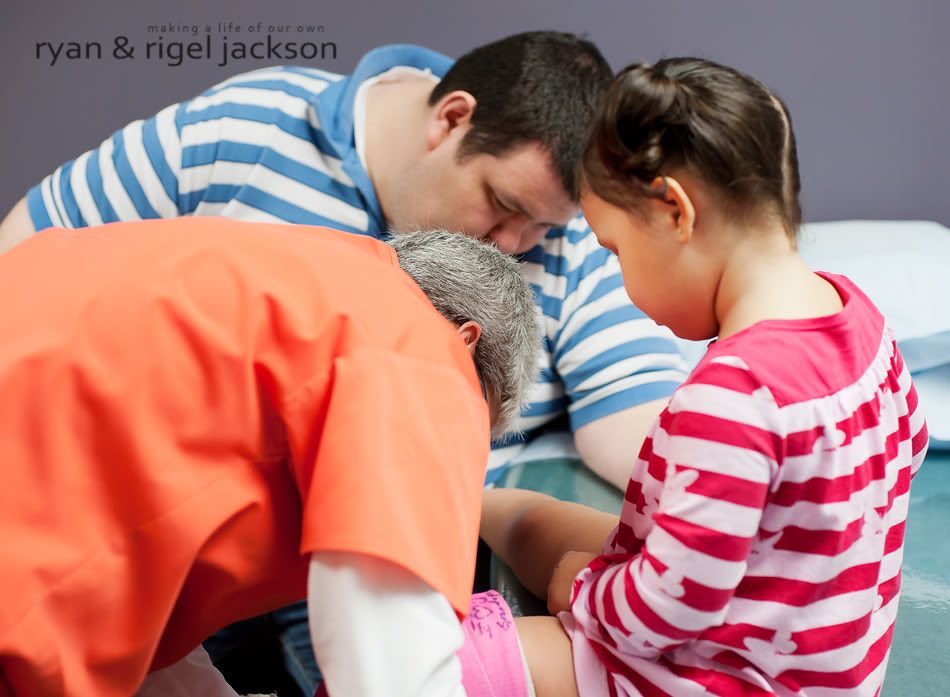 It's off!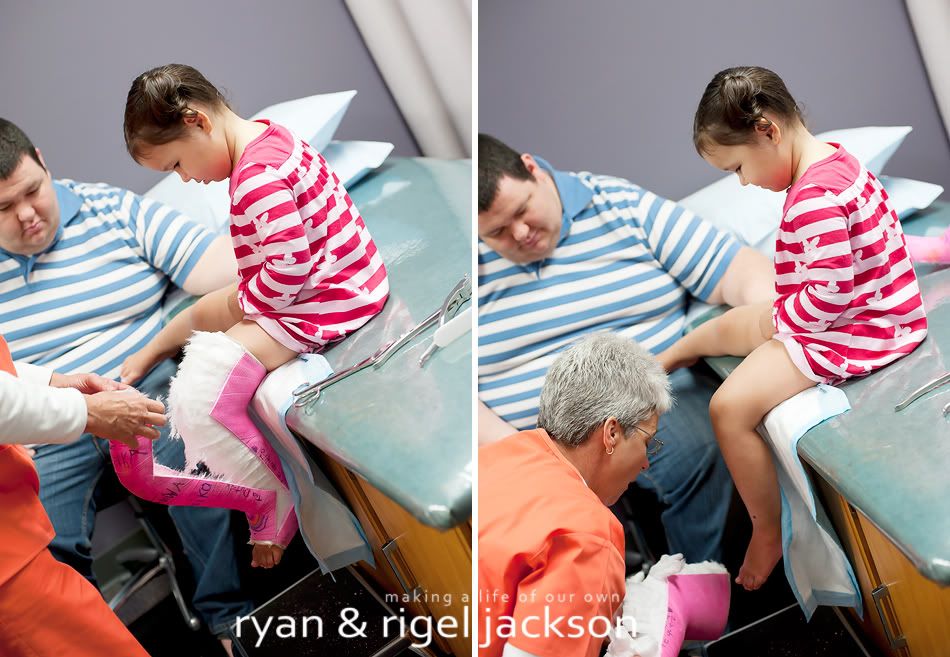 And this... is freedom! Emma's freckle is uncovered! Oh, how I missed that freckle!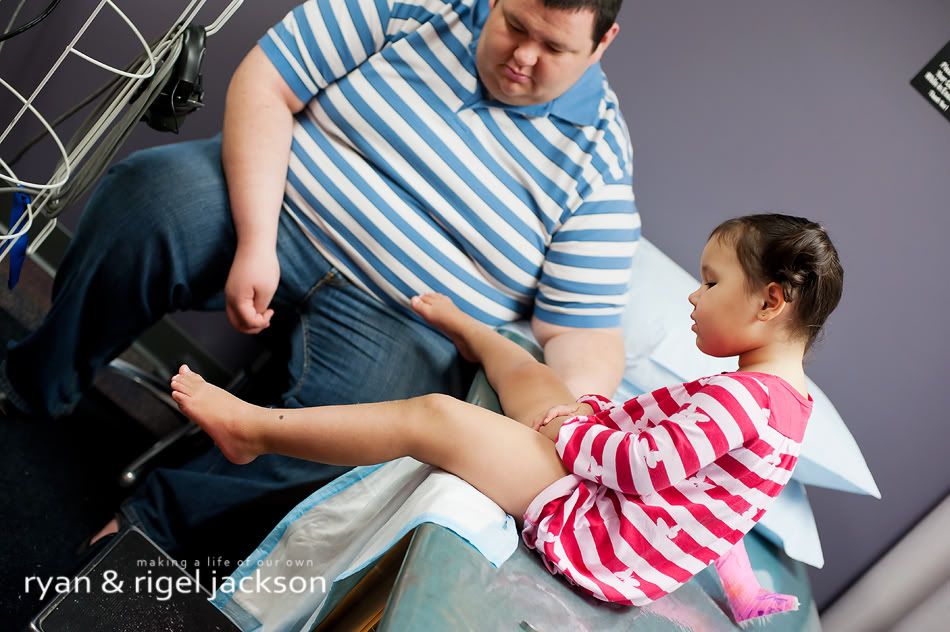 Wouldn't you say this was a super Lucky Day!!? And to top it off, Miss Noble came to see her in the afternoon and brought her a super cute photo book from their nursery time and playdates! What a lucky girl!